How to Find out What's Going on in Your Teen's Life Without Snooping Around | Teen Therapy Hollywood FL
Categories: Child Therapy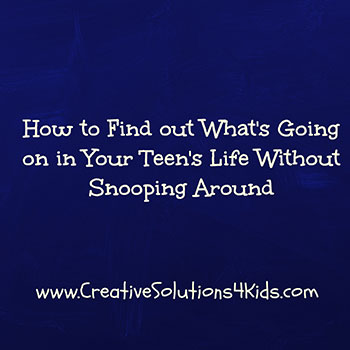 Trying to have a conversation with your teen can be quite challenging, to say the least. It's like pulling teeth to get any sort of information from him/her. It's extremely important, however, to know what's going on in your child's life. Snooping around is one option, but if your teen ever finds out, the trust the two of you have built together will be lost. Here are 4 strategies, none of which involve sneaky tactics, to help your teen open up to you.
Talk with your teen. Take time to engage in conversation with your teen by asking open-ended questions such as "so tell me about try-outs today." Having dinner together, for example, is a perfect time to chat. Make sure there are no distractions, like cell phones and tablets, both of which should be forbidden at dinner time.
Get to know your teen's friends, as well as his/her friends' parents. Encourage your teen to invite his/her friends over. You will get to know them better if they hang out at your house. It's also important to spend time with parents, especially the parents of your teen's closest friends. Invite them over for dinner or a special occasion or go out to dinner with them. You can swap stories about your teens to find out even more information about what's going on in their lives.
Give your teen more independence and freedom- with boundaries. The teen years lie somewhere in between being a child and becoming an adult. Teens crave their independence but may not be fully equipped to handle situations like an adult so give your teen some independence while setting boundaries in the process. For example, allow your teen to go out with friends on the weekend but make sure to set a curfew and find out where and with whom they are going. If your teen and his/her friends are too young to drive, offer to take them where they want to go. Also, be consistent with regards to discipline if your teen breaks any of your rules. Remember, each child is different- some may be more responsible than others. Rules which work for one child may not work for the other so cater the rules to each child's needs.
Let your teen know they can talk to you about anything- good or bad. With all the issues that teens face today, it's important that they feel comfortable enough to talk to you about any problems that might be occurring. A news segment on TV or an article regarding teen issues, for example, are good ways to bring up topics you think are important for you and your teen to discuss. Knowing you are there for him/her may help your teen feel more assured to talk about his/her problems with you.
Raising teens in our society is not an easy task by any means. It may be more difficult to get some kids to open up to you, but providing a safe environment in which they are given more trust, a touch of independence and more responsibility, may help teens feel comfortable enough to talk about what's going on in their lives.
Alicia Emamdee, RMHCI (Registered Mental Health Counselor Intern), is the author of the YA romance novel, "Aloha Self-Esteem?" which provides ways for teen girls to improve their self-esteem. Alicia is currently working on her second novel in her self-esteem series for women in their 30s and 40s. 
If you need assistance with teen therapy in Hollywood, Florida, please call Creative Solutions 4 Kids at (954) 832-3602.